Today I am sharing the books I read in September.
Reading is one of my favorite pastimes. My tastes lean toward literary fiction, escapist reads and productivity but I will give most any book a try. I credit a lot of my recent reading to discovering the Modern Mrs. Darcy Book Club.  I neglected my reading life for years, as work and parenting filled up my schedule.  Finding this online community has inspired me to make more time for reading, choose books that are right for me, create a mother-daughter book club and so much more.
Last year I started tracking my reading. I keep a reading journal which is kind of artsy and a spreadsheet which is kind of nerdy. Watching the list of books grow makes me happy.  I know all about Good Reads, which has many great features, I just prefer my less social media oriented approach.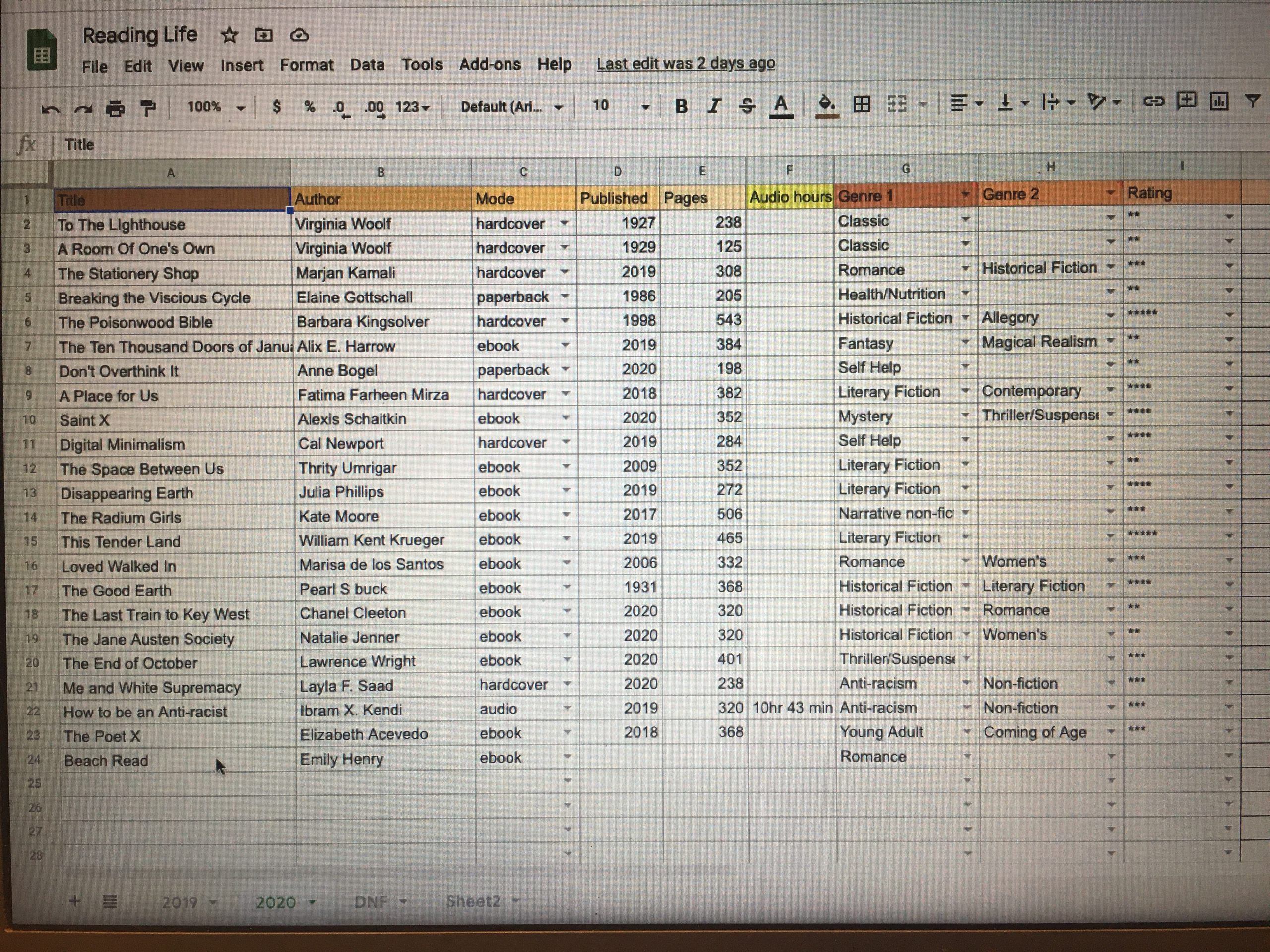 Here are the books I read in September:
I felt compelled to read this thriller about a global pandemic that was published just as covid-19 began spreading around the world. The fact that we are in the middle of a pandemic somehow made it even more enticing.  For me, reading this suspenseful thriller allowed me to process many of my own complex feelings about our current situation. This book follows Henry Parsons, microbiologist and epidemiologist, as he struggles to find a solution to a new virus that is upending life on earth and in his own family.
I chose this book looking for an escapist late summer read.  It is the first romance novel I have read in a long time and may have confirmed that for me, romance plots are often a little too predictable.  But, if you love books about books and enjoy romance this won't disappoint.
I decided to begin my anti-racism education with this book.  While slim this is much more than a quick read as journaling prompts accompany each section. I took the time to do the journaling, but my work is far from done. I learned how I benefit from white supremacy, how "not racist" is not enough and started my exploration of how I can do better.  My plan is to digest what I've learned so far and then continue my education so that I can show up more frequently as anti racist and be a real ally without being needy or performative.
This was my second book on White supremacy and Anti-racism.  I chose the audio book format narrated by the author. From this book I am starting to understand how racist policies lead to racist ideas. Changing our racist ways requires continual examination of the policies we allow to exist in our society and also our own personal thoughts and actions.
This young adult, coming of age novel was the September pick for the MMD Book Club. Xiomara is a teenage girl trying to break free from her restrictive upbringing and make her own choices.  She uses poetry and writing as a way to express her feelings and find her own identity.  Much of this book is written in verse and I am considering a re-read on audio to get the full effect.
Do you love reading?  What have you been reading lately?