I've only completed one book recently, but maybe that is because I am 50% through three other reads. Oh well, this is not really a problem. Also check out the cute little bookstore I found in Clayton, NY. Whenever I see an independent bookstore while traveling, I like to stop in and buy a book. Books have become my preferred souvenir. And here is my one recent read.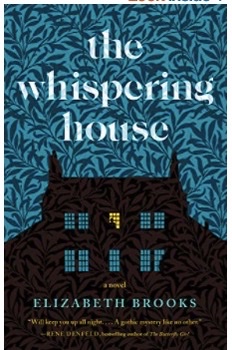 The Whispering House by Elizabeth Brooks
I started this for book club but I finished it because I just had to know what was going to happen to the characters. This book started off slowly for me and of the three books I brought on vacation I would have picked this one as least likely to finish. What a surprise when I basically abandoned the other two to join main character Freya on her quest to find out the truth surrounding her sister's death. Through a series of poor decisions Freya finds herself staying in creepy Byrne Hall with the equally creepy family that lives there. What does this family have to do with her sisters death and what secrets does Byrne Hall hide? There was just enough suspense to keep me turning the pages but not so much tension and thrill that I felt frightened.
It appears I am a Gothic novel fan which also comes as quite the surprise to my literary fiction loving heart. But my enjoyment of The Thirteenth Tale (discussed here) and this book have me pondering my next Gothic read.
I hope your summer has been filled with restful reading and also a little bit of adventure. I'm linking with Anne Bogel's Quick Lit – the absolute best place to find what you might want to read next.
Currently Reading
Anxious People by Fredrik Backman
Parable of the Sower by Octavia Butler
Up Next
A World Without Email by Cal Newport
Wintering by Katherine May